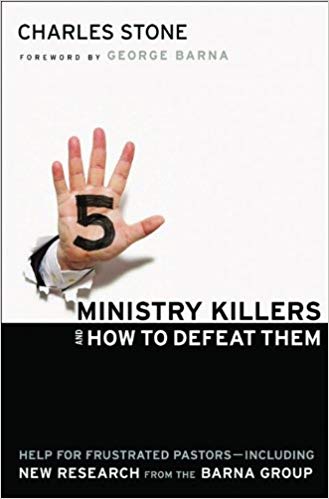 5 Ministry Killers and How to Defeat Them
Help for Frustrated Pastors
Has your dream of making a difference for God brought more frustration than happiness? Are you suffering from pastoral burnout or depression? Do you wonder if it's time to move on–or out? Have you recently searched for openings in other churches? Thought about selling insurance? Getting your Realtor's license?
Every church is different, and your situation is unique, but common threads of pastoral burnout and frustration lurk in every church. Using unpublished, commissioned research from the Barna Group, LifeWay and Christianity Today, I used my thirty years in the ministry to identify five potent killers in pastors' lives:
A head-in-the-sand mentality that denies problems
Emotional investment in the wrong issues
Unhealthy responses to ministry frustrations
A lone ranger attitude that says "God and I can handle this"
Attitudes and actions that lead to lonely, hurting spouses
Regain the hope and enthusiasm you once had for ministry! In 5 Ministry Killers and How to Defeat Them, I…
Show how to defeat obstacles with the potential to kill your ministry
Illustrate healthy ways to respond to depression, burnout and aggravating issues
Minimize the draining effects ministry places on you and your family (with a chapter on a Pastor's wife's challenges written by my wife, Sherryl)
Demonstrate how to share with others what they can do to help
By learning to open up with vulnerability, own up with humility, show up with integrity and speak up with courage, we can experience healing and renewed joy in service to Christ, our families and our churches.
"If you are serious about staying focused and faithful in your ministry, you should read this book and be encouraged."
"Charles (makes) a compelling case for how to defeat those evasive character issues that can destroy a ministry. This is an imperative topic for those of us in ministry today."
"The book . . . promises help for frustrated pastors—and the author has delivered on this promise in a big way. Reading this book was time well spent."
"A delightful guide to anyone in ministry. Get it, read it, and enjoy it, and then learn."
Articles
Called magazine article (magazine for women in ministry)
Reviews